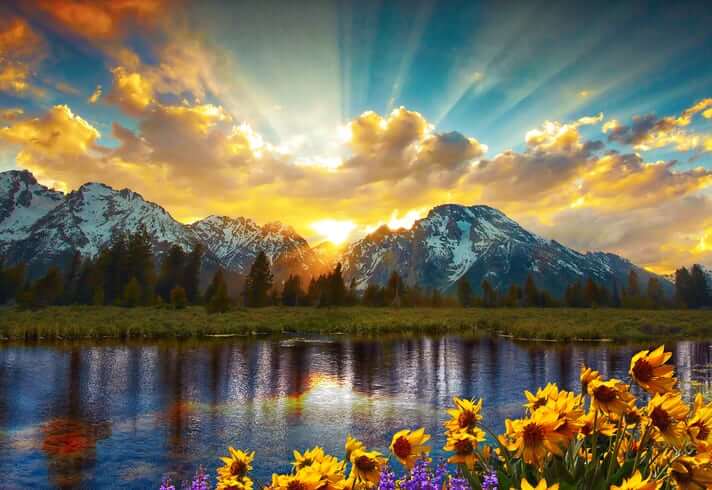 The Grand Tetons and Jackson Hole are beautiful all year round, as each season has its own unique foliage and wildlife. But, the best time to visit the Grand Tetons would be in the spring and summer months (mid-May through September). The average temperatures are in the mid-60s and 70s and the national park is in full bloom. We are giving you the month by month breakdown of the Grand Tetons, so you can plan a trip based on your vacation preferences.
There is also so much to do this time of year including, camping, hiking, fishing, kayaking and more. The wildflowers in Grand Teton National Park really are a site to see, truly making the spring and summer the best time to visit.
March through May is still pretty chilly in Wyoming, but don't let that keep you from planning a trip! The average temperatures range from the upper 30s to high 50s during this time of year. Activities that are great during spring months include corn skiing and camping!
June through September the average temperatures are in the upper 60s and 70s. The Grand Tetons really come alive as wildflowers are in full bloom and wildlife can be seen. You can take some of the best pictures during the summer months. This time of year is also prime for exploring, hiking the trails, and white water rafting! Again, the summer months are a great time to visit Grand Teton, National Park.
October through January starts to cool down in the Grand Tetons. Average temperatures range from the 50s to low 30s this time of year. The fall is a gorgeous time and one of the Grand Teton National Park is one of the best locations to take pictures as the leaves start to turn a myriad of colors! During the fall and winter months, you can enjoy skiing, hot springs, and unique winter wildlife.