Hiking Activities
in Jackson Hole
Wyoming
Explore Jackson Hole and the Teton Range on a naturalist-guided hike.
They will take you off the beaten path to explore the more peaceful corners of the valley and beyond. Knowledgeable staff will educate you on the flora and fauna, geology and history of the Greater Yellowstone Ecosystem. Don't forget sturdy hiking shoes or boots – and make sure to bring an extra layer and waterproof jacket as weather can change quickly in the mountains!
Tour price does not include guide gratuity.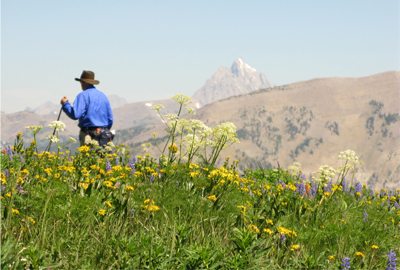 The Explorer – Half Day Tour:
Mixed Group Tours:

1-2 Adults: $360 total
3-5 Adults: $135 per person
6-7 Adults: $120 per person
$105 per Child ages 10 years & younger

Private Tours:

$540 for 1-3 guests
$690 for 4-5 guests
$840 for 6-7 guests
Offered three times daily, trail snacks included, perfect for families!
Morning: 8:00AM – 12:00PM
Afternoon: 1:00PM – 5:00PM
Evening: 5:30PM – 9:30PM (time varies due to sunset)
*Picnic can be added to evening tour for $25 per person
The Trekker – Extended Half Day Tour:
Private Tours Only
$770 for 1-3 guests
$955 for 4-5 guests
$1,255 for 6-7 guests
Offered Daily 8:00AM – 2:00PM
All activity levels, customized to guests' interests and physical ability
Lunch Included
The Mountaineer – Full Day Tour:
Private Tours Only
$895 for 1-3 guests
$1,255 for 4-5 guests
$1,595 for 6-7 guests
Offered Daily 8:00AM – 4:00PM
Moderate to strenuous activity levels, customized to guests' interests and physical ability
Lunch & Trail Snacks Included
Hike + Hot Springs Tour:
Private Tours Only
$875 for 1-3 guests
$1,120 for 4-5 guests
$1,385 for 6-7 guests
Offered Daily 8:00AM – 3:00PM
Easy activity level – perfect for families
Don't forget your bathing suit & towel!
Lunch Included